By Megan Maxwell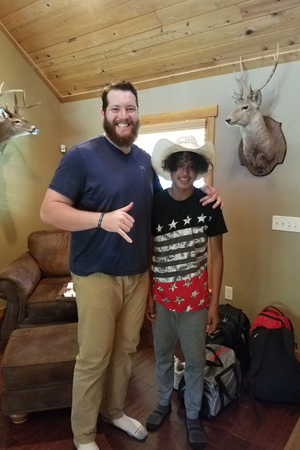 Just over two years ago when Jeff Shills signed up to be a mentor at a Sons Without Fathers retreat, he did not expect to be emotionally and spiritually wrecked. On this particular retreat, there was a 14-year-old boy named John. He was staying in a state-run group home in Winter Haven and was sent to this overnight retreat despite his lack of desire to be there. The retreat was scheduled to be a weekend spent outdoors but John arrived with saggy pants, ear phones, nice shoes and a bad attitude. He made it clear that he didn't want to be there and that he actually hated the outdoors. "I remember thinking, 'Okay, God. You have him here for a reason and you have me here for a reason. I am going to need you to help me make the connection,'" Jeff said. John started out the weekend miserable but through the Holy Spirit, the mentors gently and patiently continued to love him and create a safe place for him to just be.
Throughout the weekend his walls began to crumble and his story was exposed. It turns out that John never knew his father and he lived with his mother who was a drug dealer and a prostitute. The only examples of men he had in his life were ones that would come and go to buy his mother's drugs or use her body. John got involved with a gang a few years back and got into trouble with the law which landed him in the group home at the age of 14. Jeff's first reaction when hearing this was, "What are you doing running with a gang? You don't want any part of that (obvious, right?)." John's response was, "Mr. Jeff, what was I supposed to do? My mom was a drug dealer. Selling drugs is all I know. Those were the guys I was always around (OBVIOUS RIGHT!)." Then the realization that John did not choose this life began to sink into Jeff. "Of course, he joined a gang! Those were the only men to ever take him under their wings. They gave him a job, a place to stay and a sense of belonging that he hadn't felt before, why wouldn't he join?" And John's story is one version of the same story as thousands of fatherless youth in our country and beyond.
Our society struggles with a slew of problems including depression, suicide, rape, runaway teens, high school drop outs, drug trafficking, homelessness, human trafficking and the list goes on. As a society, we often try to attack the problem as a reaction instead of meeting the person where they are before it even becomes a problem. Did you know that…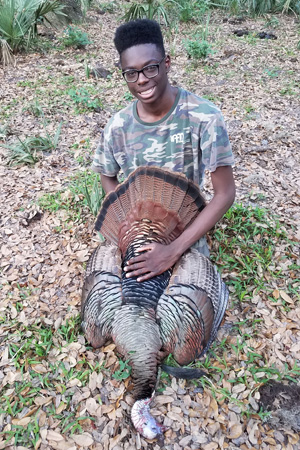 63% of youth suicides are from fatherless homes (US Dept. of Health/Census)
90% of all homeless and runaway children are from fatherless homes (US D.H.H.S, Bureau of the Census)
85% of all children who show behavior disorders come from fatherless homes (Center for Disease Control)
80% of rapists with anger problems come from fatherless homes (Justice and Behavior, Vol 14, p.402-26)
71% of all high school dropouts come from fatherless homes (National Principals Association Report)
The majority of youth in chemical abuse centers and state-operated institutions come from fatherless homes (U.S. Department of Justice)
85% of all youths in prison come from fatherless homes (Fulton Co. Georgia, Texas Dept. of Correction)
Are we saying that fatherlessness is the only source to all of these problems? Absolutely not. There are many more outlying factors that influence each individual. However, we are saying that fatherlessness is one of the strongest factors. If fatherlessness is one of our biggest issues, why is it almost never confronted or talked about? John is an intelligent boy with an ample amount of potential but his involuntary circumstances and life influences were leading him to an unwanted lifestyle. In turn these choices were leading him to homelessness and gang involvement. His instilled choices were leading him down the path to become a statistic. IAM's heart is to go straight to the source of the problem. The source is brokenness that can come from many things including fatherlessness, but the cure for all brokenness is the same, and that is a meaningful relationship with Jesus Christ.
Almost two years later, Jeff Shills is now the Florida director for Idols Aside Ministries whose mission is to share the Gospel of Jesus Christ through Sports and the Outdoors in order to engage the fatherless in his area — Everything from sports camps with professional athletes and all girl worship nights at the lodge to lake days and playing basketball in the park. The focus is to have positive male figures constantly investing and having a presence in these teen's lives. Idols Aside events are not intended to be onetime events, but the goal instead is to live out the Gospel and build relationships with every fatherless youth that is led into their path.
From September to May, Idols Aside Ministries does 2 to 3 overnight retreats a month at their lodge in Lake Wales, Florida. IAM was blessed with 92 acres and the lodge easily sleeps 12 people. Each retreat consists of 4 or 5 boys with 4 or 5 men or 4 to 5 girls with 4 to 5 women. IAM uses a discipleship focused model at their overnight retreats where they are able to have a more intimate focus with each youth. "I have been asked before if I thought reaching 12 kids a month was enough when there are thousands in need in our area. But I believe our God is a God of multiplication," Jeff smiled. "God can take a kid like John and change hundreds of lives (or more) through the power of his testimony." Most times bad habits and circumstances trickle down from generation to generation. It is a vicious cycle that can consume one's life just by simply being born into it. "We know that we aren't just positively influencing John's life, but we are influencing his kids' and grandkids' lives too. God is breaking the chains off of generations and we get to partner with God. THAT is what blows me away!"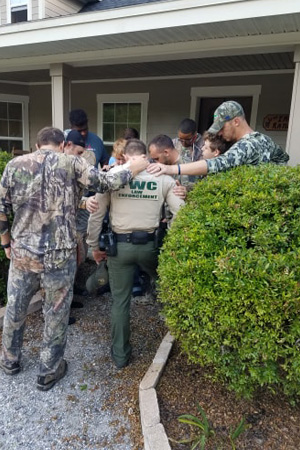 On a retreat back in March, the hunting groups were out on IAM property when they encountered an FWC officer while on patrol of the area. After watching the hunt for about an hour in a half, noticing that the youth were accompanied by adults, the FWC officer stopped the hunt to check licenses. As Jeff and the other mentors showed their licenses, God opened up a conversation about Idols Aside. The Officer said, "Yeah, I saw your sign coming in and looked up your ministry as I was waiting for the sun to come up. What an amazing opportunity for these young men." The conversation progressed and it turns out that the officer had never met his father; his mother left him and he was raised by his grandparents. The Officer shared some trials he was experiencing in his personal life in front of the whole group and Jeff asked if the group could pray for him. Recounting, Jeff said, "It was a really cool experience for two reasons: the young men were able to see that the FWC's job is to protect the resources that God has ensured into our care and the young men were able to connect with a man who had a fatherless story as well. A lot of times these boys either think that fatherlessness is common and they do not understand the need for an outreach or there are times that they may feel completely alone. The more God puts people like the FWC officer in their lives, the more they are able to see that this is MY story and I can use it to glorify God and help others!'" The men and teenaged boys all laid hands on the Officer to pray for him that day, and they all walked away a little different and the Officer is now a devoted mentor in the program!
There is a single mother who lives in Jeff's neighborhood. She has a 13-year-old and a 9-year-old and has recently become a refuge for another struggling mother who was living out of her car with her 7-year-old and 1 year old. "We figured we eat dinner 7 nights a week at our house, why not invite them all over to eat with us one night? It's a no brainer," Jeff said. From that simple action, the families have become friends and those single mothers don't feel like they are doing life on their own. "I guarantee you that people would be surprised if they just got to know their neighbors a little more. There is so much joy that can come from it," Jeff said. Statistics can make a problem like fatherlessness feel distant and daunting. Sometimes we feel helpless because we are not sure where to start helping or how to help, but the truth is simple. Just reach out.
The size of a problem can intimidate someone from acting, but when the numbers are broken down it isn't overwhelming at all. "For example, there are about 135,000 children in the foster care system in the United States and there are is estimated around 350,000 churches. That is crazy! That means that if 1 family out of every 3 churches were to foster/adopt a child that problem could be almost eradicated," Jeff said. "You can break fatherlessness down in the same way! There are currently between 23 and 24 million fatherless children in the United States. There are about 350,000 churches. The average size of a church is about 185 members. That means that there are roughly (350,000 x 185) 64 million church attenders…There are way more of us then there are of them. It is a big problem but it is possible to solve!" If God is not involved then it is not a God sized prayer!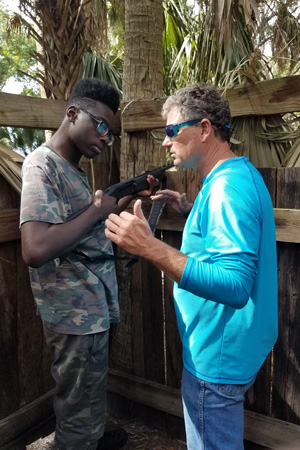 Jeff would be fine if in 5 or 10 years from now that he is out of a job because every Church is reaching fatherless youth and IAM is no longer needed. Idols Aside wants to educate, encourage, and empower the church to reach out to the single mothers/grandmothers and fatherless children in their congregations and community by stepping up for them where a father has failed. If you are reading this and do not go to church, do not be fooled into thinking that you cannot make a lasting impact, because you most certainly can! This problem is going to take all of us to solve. "I often get asked, 'Where are single mothers?' They are at sporting events, school plays and award ceremonies. Where are they at? They are your waitresses at Denny's and your cashiers at the grocery store. Where are they at? They are the lady selling you food at the Lakeland Magic game. Where are they? They are everywhere, you just have to open your eyes to see them," Jeff said nearly coming out of his seat. "Trust me, if you ask God to open your eyes. He Will!"
This nation has problems like any other. They are overwhelming and heart breaking but they are not impossible to overcome. Through God's strength we get to be the answer. We can invest in a ministry like Idols Aside, or we can reach out and invest in a fatherless child that is right down the street. We may not always have money but we do have time. Do you play golf or work on cars? Do you like movies or grilling and watching sports? Could you invite a fatherless kid to tag along with you every so often? Do you know a single mother? Could you invite her and the kids over for Sunday night dinner? We can't help 24 million youth on our own but we can help break the chains off of ONE that will change generations to come. These youth are our future and they matter. They were made to be so much more than the cards they have been dealt. What would this society look like if EVERY Church stepped up, reached out, and showed them that? Where would the fatherless be then?
How you can help…
Pray – For the leaders and the youth that come through Idols Aside Ministries to have life changing conversations and for them to be able to build lifelong relationships. Pray for the fatherless epidemic as a whole and for opportunities that you may be able to help make a difference.
Donate – There are always financial needs to keep all of Idols Aside Ministries' programs up and running. Every youth is given a scholarship to IAM events at no cost to their single mother. We will see 350+ youth this year alone in Central FL and it will cost IAM $360/youth for multiple retreats and post event follow up. Every dollar counts and is appreciated.
Volunteer – Volunteer your time to be a mentor and go on a retreat or to serve at any of their other events!
Step Up, Reach Out – Look for single parents and fatherless youth in your life and be a blessing to them!
If you would like to donate, volunteer or learn more about this ministry you may either email Jeff himself at Jeff@idolsaside.com or go to their website at https://www.idolsaside.com/!
Let's keep spreading goodness together!

EA Team